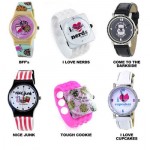 Over at Tanga you can get a David & Goliath Fun Fashion Watches for $8.99 with coupon code: TANGA10OFF at checkout! Great price to buy and save back for a birthday or holiday gift!

Right now you can score a EXTRA 10% off Lawn & Garden Tillers at Sears 3/13-3/14! It is almost time to start planting flowers and gardens!! So this is perfect timing for this extra savings!! Plus if you ship to store you won't have to pay shipping!!
Right now at Vita Tops you can Save $2 on ALL 24 Packs of 100 Calorie Hungry Girl VitaTops! I see a lot of people eating these and saying how great they are! So I thought if you could save a little I would share! I am gluten-free so I can vouch for these!