Go to ShopGetOrganized.com for a FREE reusable shopping tote with purchase over $35. No code required , Ends on 4/23. Earth Day is the 22nd so this is a great way to take a part in making the world a bit more greener by using a shopping tote rather then getting paper or plastic bags when shopping.
Pay $10 and get $22 To Spend on Reusuable Bags at Re-Pac Bags! This is under the National Deal, so no matter where you live you can snag this deal! You may prefer tossing plastic diapers to cleaning those made of cloth, but no one luvs unnecessary waste. If you're looking to live more sustainably, don't pooh-pooh today's deal from Re-Pac Bags.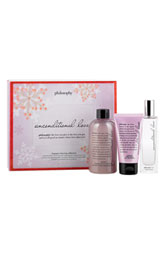 Nordstrom's has the Philosophy 'unconditional love' fragrance layering set ($72 Value) for only $49.50 right now. They also have a lot of other gifts under $50 right now. They really have some great sales right now!
These great deals brought to you by Have Sippy's contributing deal blogger, Kelsey, sharing her fun finds with you!
Want More Great Deals? Feel Free to check out her blog -ChicnSavvy Reviews
Connect on Facebookand/or Twitter!